Jump to Recipe
An easy and delicious meal with minimal washing up, this sausage and veg tray bake with a sticky balsamic glaze is great for a quick weeknight dinner!
Dinners don't always require tonnes of prep time to be delicious, and this easy sausage and veg tray bake is proof of that! It's a hearty meal packed with colourful veggies, which all get roasted together with the sausages and potato in a sticky balsamic glaze. Cooking sausages in the oven is a great way to get the skin lovely and browned, and they're the best pairing for those roasted peppers, caramelised onions and sweet Bramley apple chunks.
This is also a great one if you need to cater to a few different dietary requirements, as it's naturally both gluten and dairy free. Plus it's super versatile! You can easily switch out the roasted veg as desired. Courgette, butternut squash or cherry tomatoes would all be fab. And if you'd prefer chicken, turkey or veggie sausages they would be just as tasty too.
So what will you need to make sausage and veg tray bake?
Pork sausages
Red onions
Red and yellow peppers
A Bramley apple
A baking potato
Garlic
Balsamic vinegar
Honey
Olive oil
A few sprigs of thyme (optional)
What does the balsamic glaze taste like?
Drizzled over everything is a mixture of balsamic vinegar, olive oil and honey which makes for slightly sweet, slightly tangy flavour which I love! It's not too heavy or overpowering and compliments everything really well.
Can I make sausage and veg tray bake vegetarian or vegan?
Yes! Just switch out for veggie/vegan sausages and if you need to sub the honey you can go for agave nectar, date syrup or maple syrup.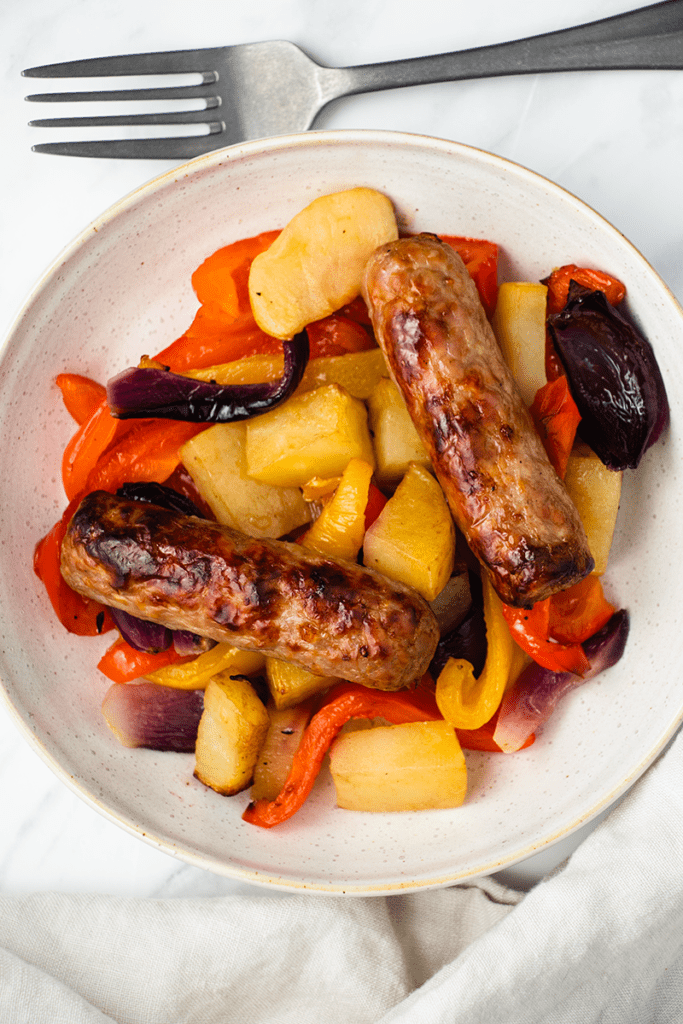 How to cook sausages in the oven
Although they're often fried or grilled, cooking sausages in the oven is personally my favourite method! It's takes a little longer but they develop a lovely crispy skin on the outside whilst staying succulent on the inside. For this sausage and veggie traybake, the cooking time is about 45-50 minutes at 200C. I always make sure the sausages are placed on top of everything else and turn them half way so they cook evenly and brown on both sides.
How to cut the potato for baking
I love adding potatoes to tray bake dinners because you end up with a complete, filling meal. Here I used a large baking potato and chopped it into chunks with the skin still on. You need to make sure they're fairly small pieces (approx 1″ in size) otherwise the potato may not be soft enough by the end of the cooking time. You could also use baby potatoes and cut them into halves or quarters depending on their size.
Can you reheat sausage traybake?
Absolutely! Leftovers should keep in the fridge for up to 3 days. To reheat, just spread everything out on a baking tray again, cover with foil and bake for 15-20 minutes at 180C or until the sausages are piping hot in the middle. Don't reheat the sausages more than once.
I hope you enjoy this sticky sausage traybake recipe! It really is the best when you don't fancy spending loads of time prepping dinner but still want something healthy, filling and delicious. If you give this recipe a try, don't forget to let me know how you got on by leaving a comment and rating below. You can also tag me in photos of your creations on Instagram @BlueSkyEating. Enjoy! 🙂
Looking for more easy gluten free dinners?
Why not try:
Sausage and Veg Tray Bake
Roasted sausages and veggies in a sticky balsamic glaze
Ingredients
8

pork sausages

(ensure gluten free if necessary)

2

red onions

1

red pepper

1

yellow pepper

1

large baking potato

1

large Bramley apple

3

cloves of

garlic

(whole, skin on)

A few

sprigs of

thyme

(optional)

2

tbsp

olive oil

2

tbsp

balsamic vinegar

2

tbsp

honey

Salt and pepper to taste
Instructions
Preheat the oven to 200C/180C fan.

Peel the red onions and chop them roughly into sixths, slice the peppers into strips, dice the potato into approx 1" chunks. Peel, de-core and slice the apple.

Add all the veg to a large baking tray along with the garlic cloves (whole, skin on), thyme sprigs and the sausages.

In a small bowl mix together the olive oil, balsamic vinegar and honey. Drizzle this all over the sausages and veg then sprinkle over some salt and pepper to taste.

Toss to coat everything in the glaze then put the sausages back on top (to help them brown).

Bake for 25 minutes then toss everything once more/turn the sausages and bake for a further 20-25 minutes or until everything is sticky and golden brown.

Carefully peel the garlic and discard the skins. You can then break the roasted garlic apart and distribute it around the tray more if desired.
Please note that nutritional information is based on estimated quantities and therefore not always 100% accurate.