Two summery fruits are the perfect pairing in this moist, fluffy lemon and raspberry drizzle cake. Complete with a sweet, zesty drizzle and thick icing glaze.
Jump to Recipe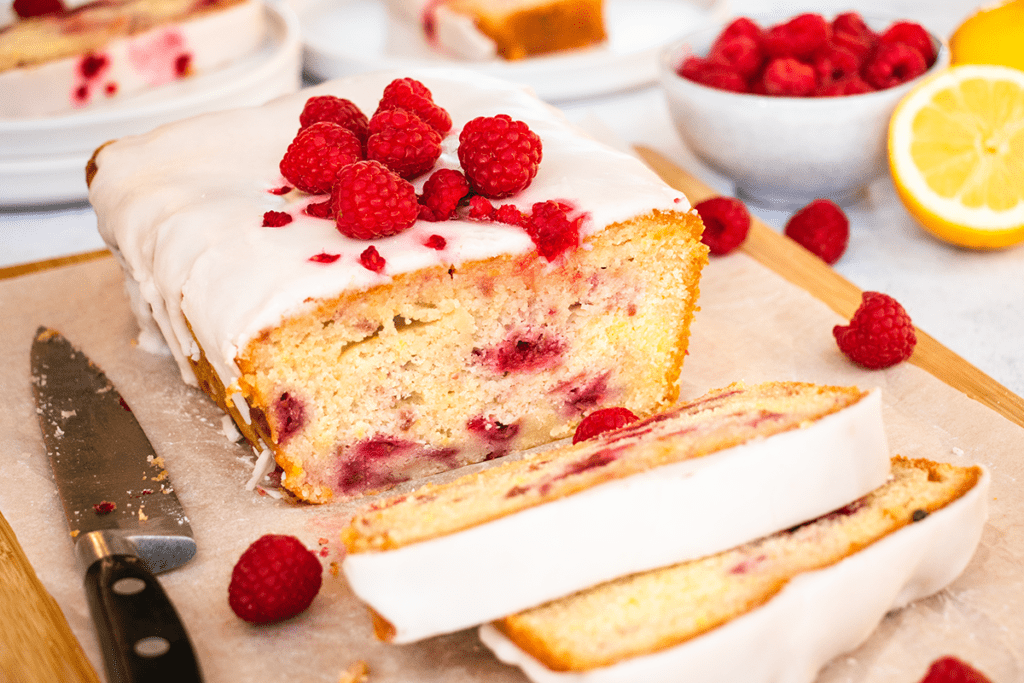 Sweet or savoury, summer or winter, I am a major lemon fiend. But this glorious lemon and raspberry drizzle cake has to be one of my favourite ways to use them. These two fruits make the tastiest combo, and a loaf cake is always the way to go if you want to keep things simple. Not only is it drenched in a syrupy drizzle, but it's also topped with the BEST lemon glaze. A slice of this with a cuppa is a great afternoon pick me up! The recipe is as always gluten free and can easily be made dairy free/lactose free too. Plus the method is a super easy one to follow.
If you're looking for a tiered celebration cake, why not try the lemon-loaded showstopper that is my triple lemon layer cake with curd and buttercream.
What goes in lemon and raspberry drizzle cake?
There are three parts that come together to make this zingy loaf cake completely delicious – the fluffy lemon and raspberry sponge, the sweet lemon drizzle that's poured all over it and the silky smooth icing that sits on top. Here are the ingredients you'll need:
For the lemon and raspberry cake
Butter (or dairy free butter)
Caster sugar
Eggs
Yoghurt (Greek, plain or coconut)
Lemon zest
Gluten free self raising flour
Baking soda
Xanthan gum
Raspberries
For the syrupy lemon drizzle
For the simple lemon icing glaze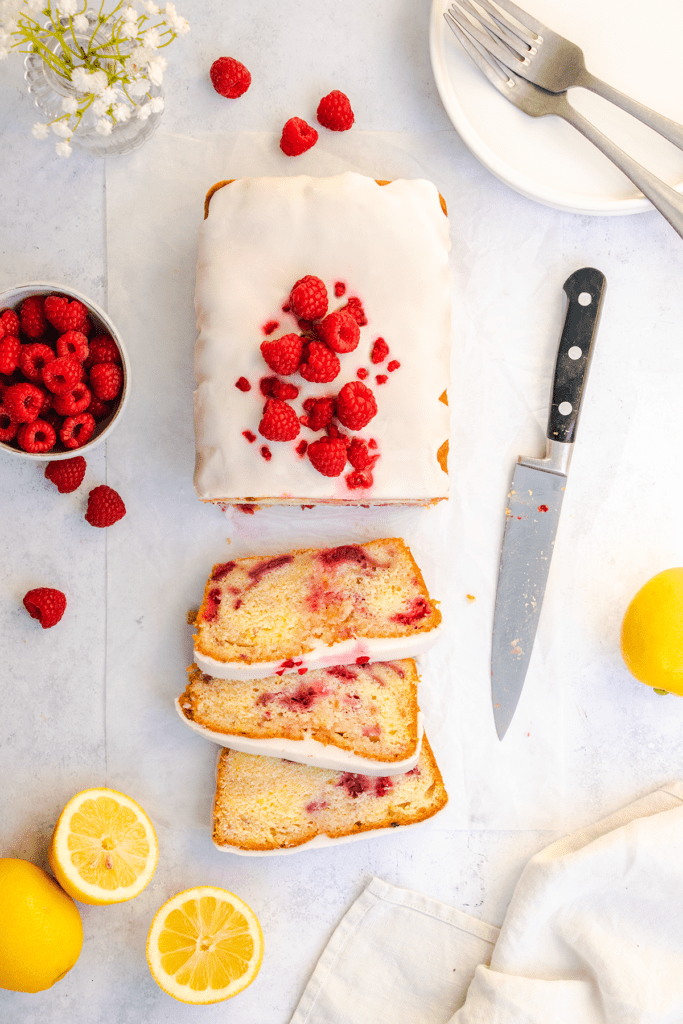 Getting that light and fluffy texture
You'd never know this raspberry lemon loaf was gluten free! It's perfectly moist thanks to that amazing zesty drizzle, and it's easy to make sure the cake itself comes out lovely and tender every time. Using yoghurt in the mixture keeps the final bake extra soft without being crumbly, whilst using both self raising flour and baking soda for a little extra lift makes everything super fluffy. When preparing the cake mixture, always make sure to sieve in the flour and fold it through very gently until just combined. You don't want to overmix at this stage. Being gentle keeps as much air in the mixture as possible which means a lighter, fluffier cake!
How to tell when your loaf cake is cooked?
I find that it normally takes about 1 hour to cook at 180°C, but that may vary depending on your oven and exact size and shape of your loaf tin. To check whether your cake is done, poke a skewer all the way through the centre. If it comes out clean or with just a few moist crumbs, that's perfect. If it comes out covered in wet cake mixture, it needs a little longer.
Can I make lemon and raspberry drizzle cake without the icing?
So, when it comes to lemon drizzle cake topping, why should you bother with both a drizzle AND an icing? You could absolutely choose one or the other if you fancy, but I highly recommend going for both! Each element is made with just two ingredients. The drizzle is basically a delicious lemon syrup that's runny enough to seep through the entire cake giving it an extra tangy hit, whilst the thicker dairy free icing adds an irresistible layer of sweetness on the top. You could also add a few drops of pink food colouring to the icing in keeping with the raspberry theme!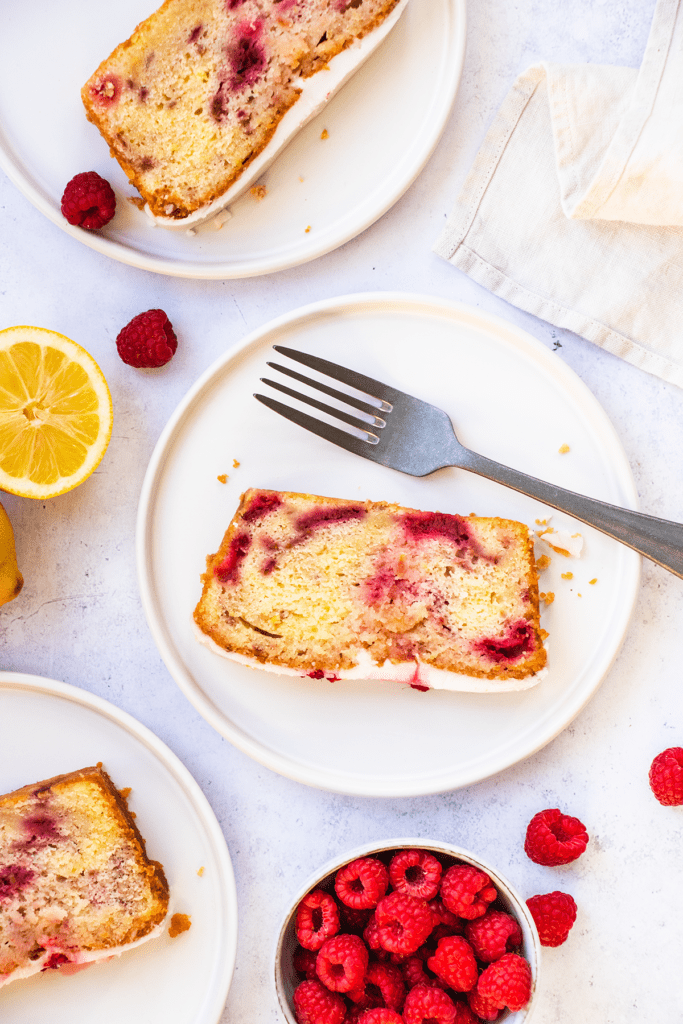 How long will lemon and raspberry drizzle cake keep?
This cake is best eaten within 3-4 days (thankfully that's never a difficult task!). Store it at room temperature in an airtight container.
Can you freeze it?
Yes, once baked it can be stored in the freezer for up to 2 months. Either wrap the whole cake tightly in cling film, or slice up and wrap each slice. For best results, I'd recommend freezing without the drizzle or glaze and adding these when you come to eat it. To defrost the cake, leave it out at room temperature overnight.
I hope you'll love this gluten and dairy free lemon drizzle cake with a colourful berry twist. These summery fruits really are the perfect match! If you give this bake a try, don't forget to let me know how you got on by leaving a comment and rating below. You can also tag me in photos of your creations on Instagram @BlueSkyEating. Enjoy! 🙂
Looking for more gluten and dairy free bakes?
Why not try:
Lemon and Raspberry Drizzle Cake
Lemon and raspberry are the perfect pairing in this moist, fluffy loaf cake. Complete with a sweet, zesty drizzle and thick icing glaze.
Ingredients
For the cake:
190

g

butter

(or dairy free butter)

240

g

caster sugar

3

large

eggs

Zest of

2

lemons

100

g

greek yoghurt or plain coconut yoghurt

240

g

gluten free self raising flour

1/2

tsp

baking soda

1/2

tsp

xanthan gum

(omit if your flour blend already contains xanthan gum)

200

g

raspberries

(fresh or frozen)
For the drizzle:
75

ml

fresh lemon juice

75

g

caster sugar
For the icing glaze:
250

g

icing sugar

3

tbsp

fresh lemon juice

A

handful of

extra fresh raspberries

(optional – for decorating)
Instructions
Make the cake:
Preheat the oven to 180°C/160°C fan and grease and line a large loaf tin (the one I used measured approx. 25 x 12cm).

Whisk together the self raising flour, baking soda and xanthan gum (if adding) in a mixing bowl until well combined.

In another large bowl, beat together the butter and sugar until pale and fluffy. You can also do this in an electric stand mixer.

Add an egg, followed by a tablespoon of the flour mixture and beat to combine. Repeat twice more with the remaining eggs. Adding the flour with each egg prevents the mixture from curdling.

Mix through the lemon zest and yoghurt.

Sprinkle a little of your flour mixture over the raspberries and toss them so they're well coated. This will stop the raspberries from sinking to the bottom of the cake.

Sieve the rest of the flour mixture into the bowl with the wet ingredients and gently fold everything together until just combined.

Add the raspberries and gently fold them through.

Transfer the mixture into your lined loaf tin and bake for about 1 hour. It make take a little longer depending on your oven and the exact size/shape of your tin. After 45 minutes, if the top of the cake is nicely browned, you can cover it loosely with foil to stop it browning any further. To check whether the cake is cooked, insert a skewer into the middle. It should come out clean or with just a few moist crumbs – not with wet cake mixture on it.
Make the drizzle:
Whisk together the caster sugar and lemon juice until the sugar is completely dissolved.

Once your cake is out of the oven, let it cool in the tin for about 10 minutes. Then, use a skewer or fork to poke holes all over the cake. Pour over the lemon drizzle and allow the cake to cool completely in the tin.
Make the icing glaze:
Sieve the icing sugar into a bowl, then gradually add the lemon juice, mixing as you go. It should be smooth and thick enough to coat the back of a spoon. Add a little more lemon or icing sugar if needed to get the desired consistency.

Once the cake is completely cooled, remove it from the tin and spread the glaze all over the top, allowing it to drip down the sides a little.

Decorate with some fresh raspberries (optional!) and allow the icing to set completely before slicing.