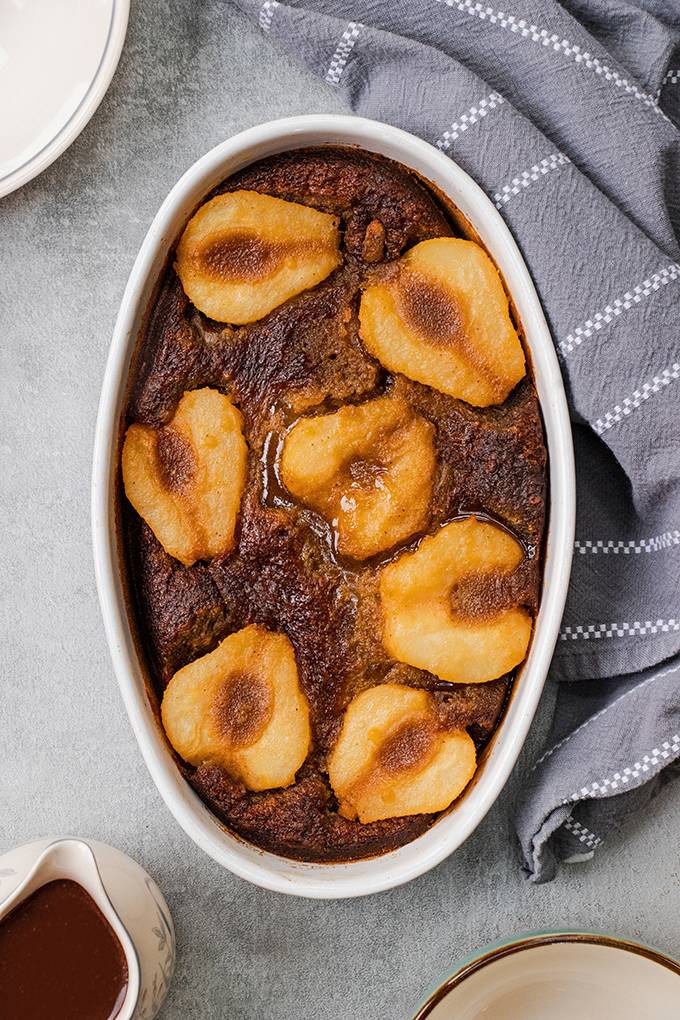 What could be more comforting than a freshly baked, sauce-covered pud? For me it's the ultimate treat to enjoy on a chilly day! This pear and ginger pudding is gloriously sticky, packed with warm, spicy flavour and topped off with a thick and fudgy chocolate sauce. Plus, it's also free from both gluten and dairy. So, if you've never tried the game-changing combo that is pear, ginger and chocolate, it's time to fix that!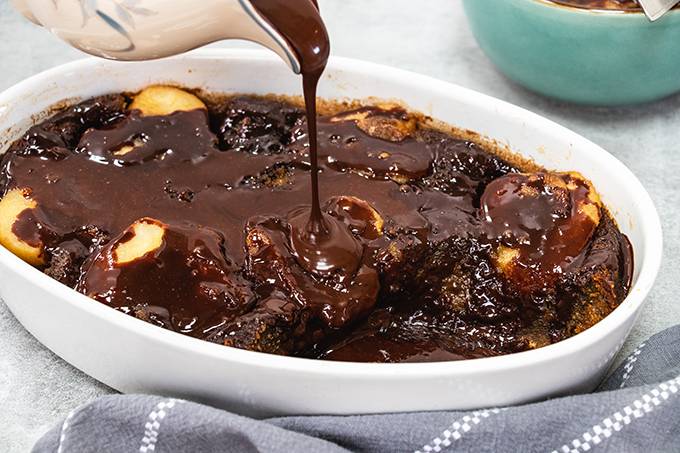 What type of pears to use
To keep things quick and easy, I used tinned pear halves to make this pudding. These normally come in syrup or juice which you'll need to drain off. I found that 7 halves (or 3 and a half pears) was the perfect amount. This ended up being about 1 and a half 410g tins worth. You can also use fresh pears if preferred. Just make sure to peel them, remove the cores and slice them in half.
The easiest dairy-free chocolate sauce
I wanted to create the ultimate chocolate sauce to accompany this wonderfully squidgy pudding, and experiment with making it dairy-free. Swapping in the Elmlea Plant double cream instead of the standard cream that I would generally use worked an absolute treat! This sauce is rich, creamy, fudgy and intensely chocolatey. You'd NEVER guess that it was dairy-free/vegan. It's made in just a couple of simple steps:
Dairy-free cream, sugar, golden syrup and vanilla extract are stirred together over a low-medium heat until boiling.
After leaving to bubble for about a minute, the pan is removed from the heat and dark chocolate chips are whisked in until completely melted.
And that's it. Now just try not to eat the entire panful before the pudding is ready!
How to tell when the pudding is cooked
The pudding should take 40-45 minutes to cook at an oven temp of 180°C/160°C fan. I found that after this amount of time, the sponge was mostly cooked through, but still had a bit of a wobble to it and some gooey bits underneath – the perfect pudding texture! If you prefer less gooeyness, trying cooking for an extra 5-10 minutes. It's also a good idea to cover the dish with foil about 25 minutes into cooking, to prevent the top from burning.
How to store your pear and ginger pudding (and chocolate sauce!)
When it comes to serving up your pear and ginger pudding, you can either pour the chocolate sauce over the whole dishful, or keep it in a jug and add to each individual portion (or both if you're a chocolate fiend like me!). Providing this beauty of a dessert isn't devoured in one sitting, you may find yourself with some leftovers. It's best to keep both the pudding and sauce covered in the fridge, where they'll keep for 3-4 days. The chocolate sauce does solidify when refrigerated, but you can simply scoop some out, place on top of your pudding portion and pop everything in the microwave for about 1 minute to reheat the pud/melt the sauce.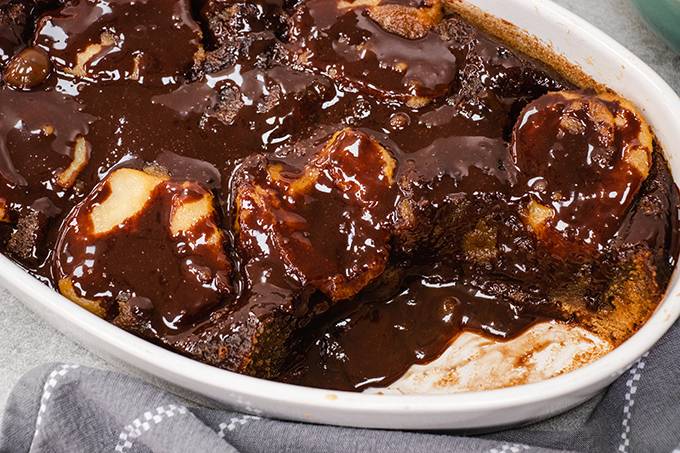 If you give this pear and ginger pudding a go, don't forget to let us know how you got on by leaving a comment and rating below. You can also tag us in photos of your creations on Instagram @BlueSkyEating. Enjoy! 🙂
Pear & Ginger Pudding with Chocolate Sauce
A gloriously sticky pear and ginger pudding, topped with an indulgent chocolate sauce.
Ingredients
For the pudding:
200

g

melted dairy-free spread (or butter if not making DF)

300

g

caster sugar

60

g

black treacle

5

tbsp

syrup from a jar of stem ginger

2

pieces

stem ginger

(very finely chopped or blitzed in a food processor)

4

large

eggs

(beaten)

140

g

gluten-free plain flour

1 1/2

tsp

ground ginger

7

pear halves

(I used tinned pear halves – about 1 1/2 tins worth)
For the chocolate sauce:
270

ml

dairy-free double cream

(I used Elmlea Plant Cream)

60

g

caster sugar

30

g

golden syrup

150

g

dark chocolate chips

1/2

tsp

vanilla extract
Instructions
To make the pudding:
Preheat the oven to 180°C/160°C fan

In a large bowl, beat together the melted spread or butter with the sugar, treacle and stem ginger syrup.

Add the finely chopped/processed stem ginger and beat until well distributed through the mixture.

Gradually add the beaten egg, stirring to incorporate after each addition.

Sieve in the flour and add the ground ginger. Fold in until well combined.

Rub a little spread/butter around the bottom of a large baking dish (I use an oval shaped dish that measures approx 29 x 18cm).

Pour in the pudding mixture and place the tinned pear halves on top, spacing them evenly around the dish. 7 pear halves ended up being about 1 1/2 tins worth. You can keep any leftover pear in the fridge for a tasty snack or addition to your breakfast!

Bake for 40-45 minutes, covering the dish with foil after 25 minutes.
To make the chocolate sauce:
In a saucepan over a low-medium heat, stir together the dairy-free cream, sugar, syrup and vanilla extract. Bring to the boil and let it simmer for about another minute.

Remove the pan from the heat, pour in the chocolate chips and whisk until completely melted.

You can either pour the sauce over the whole pudding or serve in a jug to be drizzled over each portion (or both!). The sauce will solidify if kept in the fridge but you can easily pop it in the microwave before serving.
Please note that nutritional information is based on estimated quantities and therefore not always 100% accurate.