Jump to Recipe
These delightfully crispy potatoes are the ultimate side for your roasted meat, fish or veg. They're oozing with garlicky butter and tender on the inside with an incredible crispiness on the outside. Hasselback potatoes are made by cutting fine slits about 3/4 of the way through each potato. This allows them to soak up tonnes of flavour and develop that super crispy skin.
How to Achieve the Perfect Crispy Hasselback
The key is to brush each potato with the garlic and rosemary butter mixture three times – once before cooking and twice during. You'll want to do this really thoroughly, making sure it drizzles down into all the slits each time. This will result in amazingly crispy spuds!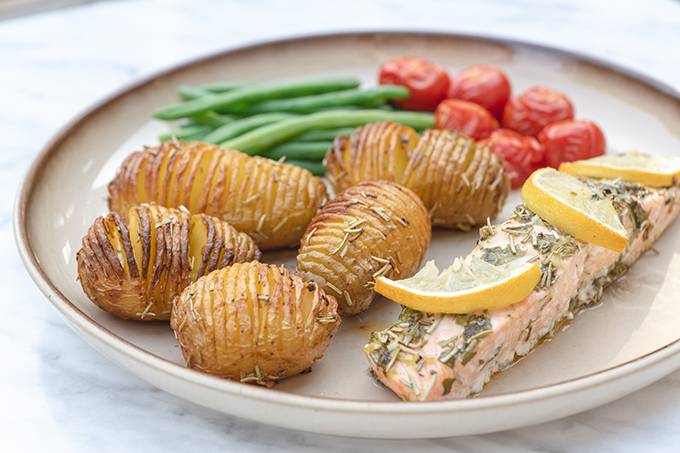 What to Serve with Hasselback Potatoes?
Hasselbacks are the perfect partner for so many foods. One of my favourite ways to eat them is with lemon and herb roasted salmon. If that doesn't tempt you, there are plenty of other options! Why not try them with:
Steak and green beans or broccoli
Grilled chicken breast and fresh salad
Cauliflower cheese
A bean or lentil stew
Sausages and roasted carrots
Let me know what you serve your hasselbacks with by tagging your Instagram photos @BlueSkyEating. Enjoy! 🙂
Hasselback Potatoes with Garlic and Rosemary
Perfectly crispy, buttery roasted hasselback potatoes. An essential component of your roast dinner!
Ingredients
800

g

small to medium potatoes

(maris piper potatoes work well)

3

cloves

garlic

(crushed)

1

tbsp

rosemary

60

g

melted butter

(or dairy free alternative)

2

tbsp

olive oil
Instructions
Preheat the oven to 220°C/ 200°C Fan

Cut slices into the potatoes, making sure not to cut all the way through. The slices should be about 3mm apart and go approx 3/4 of the way down through the potato.

Place the potatoes on a baking tray

In a small bowl, mix the melted butter, olive oil, crushed garlic and rosemary

Use a pastry brush to thoroughly coat each potato in the butter mixture, getting it down into the slits. There should be about half of the butter mixture leftover.

Sprinkle salt and pepper over the potatoes (to taste)

Remove from the oven and re-brush each potato with the remaining butter mixture

Brush the potatoes one last time, using the oil in the bottom of the tray

Bake for another 10-15 minutes or until desired crispiness is reached!
Please note that nutritional information is based on estimated quantities and therefore not always 100% accurate.